Welcome to November Grant School Families!
I'm going to switch up the Newsletter/Blog a bit and try to get information to you bi-weekly.  Stay connected and share this post with a family you know at Grant School!
A Month Gone By
October was a whirlwind of activity.  If you're a family like mine, you were knee-deep in soccer when not at school.  I just love to watch my boys' sports!
In October, students at Grant School took a field trip to Tolay Park, and despite some run-ins with yellow jackets, I heard great things about corn husk dolls, nighttime creatures, candle making and of course, pumpkins.  Our 6th graders spent a day at Westminster Woods' Challenge Course.  They wrote some exciting personal narratives to capture the excitement of the day.  Unfortunately, due to the government shutdown, our 5th grade visit to the Age of Sail on the Petaluma River was canceled.  We're hoping to reschedule in the spring.  Fourth grade took a hike a Bouverie after a classroom docent visit.  This is a special hiking spot as it is strictly docent led and not open to the public without prior arrangements.  The docents really know the preserve well and each hiking group has a unique experience while visiting.  Mrs. Elias' class took a hike also to Fairfield Osborn Preserve. Walk to School Day was in early October and we wrapped up our Innisbruck Fundraiser.  Jogathon was a fantastic day!  It is one of my favorite things to see at Grant School–Community-wide events where lots of parents, grandparents, aunts and uncles come out to support our students and school!  Thank you all for pitching in, wearing your Visitor Badges, and cheering on the kids as they ran.  Our monthly Coffee & Conversation with the Principal was well attended.  Consider coming to the next one–November 15th from 8:00-9:00 in the library.  Our Problem of the Month Gallery Walk & Math Morning was a success!  Student work on the POM Measuring Up was amazing.  As we move more and more into the world of Common Core Standards, we focus on the Standards for Mathematical Practices which span k through high school.  You can hear more about the Common Core at our December PTA Association Meeting on 12/5/13.  And finally, the Annual Halloween Parade was awesome!  405 students dressed as mermaids, Steve (from Minecraft), robots, bananas, sumo wrestlers and more walking around the neighborhood practicing their best parade waves… it's a fun day for Grant School.  We had an amazing author visit in October by both Mac Barnett AND Jon Scieszka (see pic).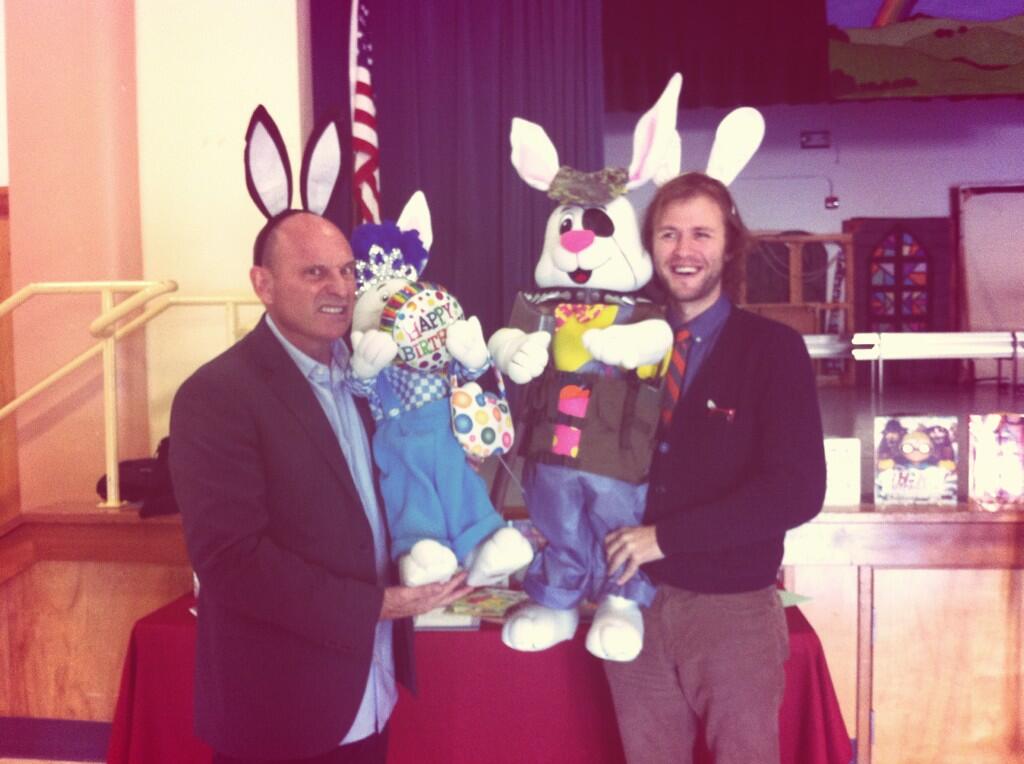 They collaborated on a funny twist to the traditional Golden Book turning Birthday Bunny into Battle Bunny.   Mrs.  Crysdale even had some of our students try out turning a Golden Book into something different.  Mac and Jon were quite taken with some of our student work.  Thank you Ms. Crysdale and Copperfield's for bringing such great writers and illustrators to our school.
What does November have in store?
Not to be outdone by October, November looks to be an eventful month as well.  Mrs. Crysdale and her crew of volunteers are hosting the Book Fair the week of November 4th.  Your student has specifics in the Friday Folder.  Classes visit at their normal weekly library time and the Book Fair is open after school and on Wednesday and Friday for special evening events. The 1st trimester wraps up in November with parent/teacher conferences and report cards.  Conferences are a valuable time to share insights, growth and areas of particular need by both the parents and teacher.  School is a place of constant learning–social, academic and emotional.  Our teachers prepare a thoughtful conference time full of academic information and social/emotional feedback for each student at our school.  We even go so far as to schedule sibling conferences back-to-back for families.  With conferences, comes early release days.  November 12th through 22nd become like Wednesday.  1st-6th get out at 12:45 and Kinder releases at 11:25. Field trips are a great way to learn outside the campus.  Kindergarten is walking to the Firehouse on D Street.  5th grade takes a fall hike at Helen Putnam.  3rd grade will walk to McNear for a visit by new-author, Amy Guitierrez (aka Amy G).  And finally, we have five classes heading to Tolay for a creek restoration project.  These teachers (Mrs. Elias, Mrs. Jimenez, Mrs. Cratty, Ms. Hurd and Mrs. Groh) all attended a week-long STRAW training over the summer to make this student project possible.  It'll be a messy day but our students will be able to see their restoration efforts long into the future. PTA sells delicious pies this month hand-made by a gal down in Marin County.  They are a great go-to dessert if you have friends stop by or need something quick around the holidays.  Always know that fundraisers are 100% optional.  We try to keep things diverse to meet a variety of needs while raising funds for school.
Tune in!
On Thursday, November 7th, KPIX is featuring Grant School in the 6:30pm weather segment.  Check it out!