Staying Connected to Grant School
It takes a crew of volunteers and staff to keep communication flowing between home and school.  And sometimes it can seem a bit much but our intention is to ensure everyone is "in the loop" about school events and happenings.  How are you connected?  Here are some ways to get the information you need:
Read teachers' weekly or monthly email updates.  This is a great way to know the details of the classroom.
Classroom Bulletin boards are another source of information if you're on campus.
The School Website: grantelementary.org is kept up-to-date and relevant.  School schedules, teacher contacts, calendared events and reminders are on the website.
Twitter!  Mrs. Haugen tweets out learning from the classroom, reminders and upcoming events.  You can follow us @grantshamrocks and see the feed on the website.
Weekly Emails from PTA!  You can subscribe to our weekly email; it's thorough and pertinent information.  The top left corner of the website has a button to subscribe.  Make sure to check spam so you get these emails each week.
Facebook!  Our PTA Facebook page is another place to get information.  Grant PTA Petaluma is how to find us.
Our GLT Blog!  The Grant Leadership Team blogs about classroom and school-wide events.  The blog can be found through the wiki (grantlab.pbworks.com) or school website.
Call the office.  Michelle & Shantina are always happy to answer your questions.  707-778-4742
Lice, a Nuisance Critter
While a complete nuisance, lice do not carry disease.  It is good practice to check your children regularly for nits (eggs) and live lice.  Nits resemble dandruff but stick to the hair.  Lice are usually found around the nape of the neck or behind the ears. It works best to use a fine-toothed comb to remove nits and search for lice.  If treating, use an appropriate head lice shampoo and treat as recommended in the instructions, combing the hair to remove nits and lice between shampooing.
Cleaning your home is another step.  Wash linen in hot washer and hot drier or bag up linen a set in a hot location (out in the sun) to kill the lice and then wash.  Vacuum all surfaces and sterilize combs and brushes.  It's always a good idea to check the whole family if lice or nits are found on one person.
It really takes an entire school community to keep this critter at bay.  Check regularly and treat thoroughly.  If you ever need an office staff member or our school nurse to check your child, give us a call.
All teachers sent out a reminder to families this week.  Thanks for staying diligent!
Social Media and Elementary Aged Students
A few resources for you:
Here at school, we take advantage of every teachable moment to steer students in the right direction when it comes to online safety and appropriateness.  We are focusing on academic use of platforms and tools, collaborative norms and how we communicate in a digital world.
While social media (Facebook, Instagram, Twitter, etc.) does come up in the school setting, it's also a huge responsibility for parents.  Just as we stay connected with our kids' friends, who they play with at home and at school and what they're up to, we need to stay connected to their online social world also.  Many social media platforms have age restrictions that parents need to be aware of.  If you allow your child to establish an account, you should "follow" him or her and have open conversations about what they are sharing and who they are sharing with.  I like this visual from Edutopia.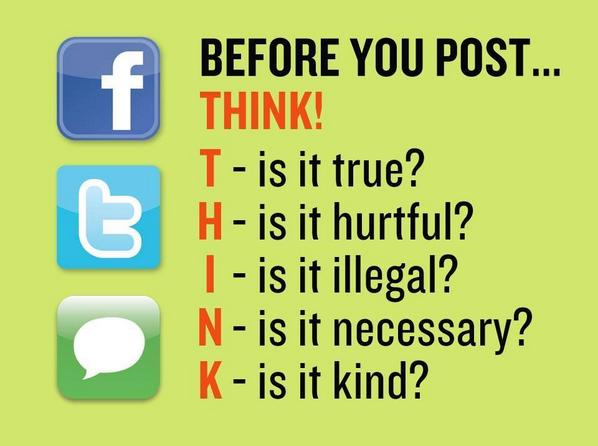 It's never tooo early to start a conversation about appropriate use of technology.  Social media may seem impermanent and "just for fun" and while it can be fun, there is room for hurt feelings and cruel behavior. These communication are absolutely permanent and create a individual digital footprint. The benefits of using technology for communication, productivity and creativity are awesome.  We just need to support our kids as they grow into this very connected world.
Lost & Found 
Here we go again!  With cool mornings and warm afternoons, jackets and sweatshirts pile up at Grant School.  The lost & found is in the multi use room.  And we have the amazing Lorna Wikstrom now setting out the Lost & Found in the amphitheater on Thursdays when she sells Grant apparel.  Come by and claim a sweatshirt, lunch bag or water bottle! Thank you Lorna!  It works best if your child's name is on a tag or at a minimum, their initials.
Upcoming Dates:
Conference Days: November 10-21; 12:45 dismissal for 1st-6th & 11:40 dismissal for kinder
Veteran's Day (No School): Tuesday, November 11
Fall Break: November 24-28
Book Fair: December 1-5
Holiday Gift Shoppe (info coming home soon): December 10-12
PTA Association Meeting: Thursday, December 11th
Noon Release: Friday, December 19
Winter Break: December 22-January 5
Teacher Professional Development/Non-student day: Tuesday, January 6, 2015